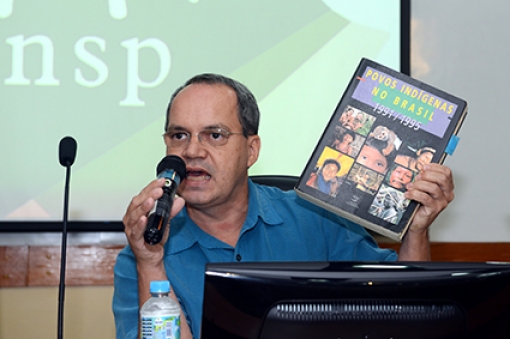 "Qual é o indígena da Amazônia que emerge a partir dos censos nacionais?", este é o tema da palestra que Ricardo Ventura, especialista em demografia indígena, da Fundação Oswaldo Cruz (Fiocruz), abordará no Seminário de Pesquisa do Núcleo de Estudos da Amazônia Indígena (NEAI), da Universidade Federal do Amazonas (Ufam), que será realizado em parceria com o Programa de Pós-Graduação Stricto Sensu em Condições de Vida e Situações de Saúde na Amazônia (PPGVIDA), do Instituto Leônidas e Maria Deane (ILMD/ Fiocruz Amazônia).
O evento acontece na próxima quinta-feira, 23/3, às 14h, na sala 12, do NEAI,  na  Faculdade de Direito da Ufam, à avenida. Gal. Rodrigo Octávio Jordão Ramos, 6200 – Coroado.
A palestra de Ricardo Ventura vai abordar questões teóricas e metodológicas envolvidas na captação de dados sobre indígenas pelos censos demográficos no País, trazendo exemplos do Amazonas. Serão também abordados aos desafios que se colocam para a coleta de dados sobre as populações indígenas no Censo 2020.
SOBRE O NEAI
O NEAI é um grupo de pesquisa vinculado ao Programa de Pós-Graduação em Antropologia Social (PPGAS) e ao Departamento de Antropologia da Ufam. O grupo congrega pesquisadores, professores e estudantes de diferentes áreas do conhecimento, que se dedicam ao estudo e pesquisas sobre temas e problemas relacionados aos povos e comunidades tradicionais.
Os resultados de suas atividades objetivam contribuir para o fortalecimento da pesquisa em Etnologia e subsidiar atividades de ensino, extensão e intervenção. O NEAI desenvolve suas ações através de pesquisas coletivas e individuais, projetos de extensão, encontros, palestras, seminários, seções de estudo e cursos de curta duração.
SOBRE O PPGVIDA
O PPGVIDA – ILMD/Fiocruz Amazônia é um programa de pós-graduação que tem como objetivo capacitar profissionais para desenvolver modelos analíticos capazes de subsidiar pesquisas em saúde, apoiar o planejamento, execução e gerenciamento de serviços e ações de controle e o monitoramento de doenças e agravos de interesse coletivo e do Sistema Único de Saúde na Amazônia.
O seminário é aberto ao público.
SOBRE O PALESTRANTE
Ricardo Ventura é graduado em Biologia pela Universidade de Brasília,  Mestre e Doutor em Antropologia pela Indiana University, pós-doutorado em Massachusetts Institute of Technology (MIT) e na University of Massachusetts (1998-99), assim como no Max Planck Institute for the History of Science, Berlin. É Professor Titular no Dept. Antropologia do Museu Nacional – MN/ UFRJ e Pesquisador Titular na Escola Nacional de Saúde Pública/Fiocruz.
ILMD Fiocruz Amazônia, por Eduardo Gomes
*Com informações do NEAI
Foto: ENSP/Fiocruz
https://amazonia.fiocruz.br/wp-content/uploads/2017/03/8d238af2a95d2818f61cf47cb2454525027f2091.jpg
339
510
Marlucia Almeida
https://amazonia.fiocruz.br/wp-content/uploads/2019/08/marcas_cabecalho.png
Marlucia Almeida
2017-03-20 22:48:16
2017-03-20 22:48:16
Seminário sobre indígenas na Amazônia e censos nacionais